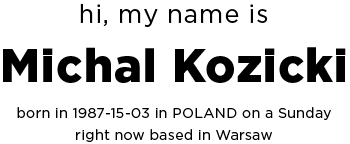 Hi! Thanks for visiting my site.
Here are some facts about me:
I have been working with design for the past 10 years: print, web - you name it. Seven years ago I started my own company. Being my own boss taught me the principles of management, human resources, task distribution, conversing with clients and how business actually works.
In 2013, I have established a close and fruitful partnership with Valkea Media ad agency. During the course of our cooperation I have completed over 2TB of projects for both local and international brands. What is more I am Senior Designer, UI & UX consultant, I provide Web Design training for younger designers. All that despite being an external employee.
Two years ago I began working as an UI/UX designer for Konsult Expert, a Polish-Canadian start up that is constantly undergoing evaluation and further development. "Forbes Poland" has even honored it as one of three best med-oriented start-ups in Poland.
To top all that, about a year ago my friends and I founded Mercial Sp. z o.o. (a limited liability company), with the objective to create hi-tech apps and websites.
I always push myself to learn more both as a designer and as a person. I follow the latest trends, as well as I try to anticipate them. The constant yearning for knowledge comes with the job. I am ambitious, open to new ideas and generally an optimist. I tend to spend 10-14 hours in the office, as I am diligent and keep myself busy. IT College has given me the necessary basis and has taught me to draw inspiration from all the new technologies and implement it into my designs.
I do not know what the future will bring, but I will work day and night for my name to be known in the world of design.